Shopping Cart
Your Cart is Empty
There was an error with PayPal
Click here to try again
Thank you for your business!
You should be receiving an order confirmation from Paypal shortly.
Exit Shopping Cart
Coming up in Sept.-October new litters of puppies. Place your name on the waiting list now. 
Also new lambs should be arriving in Sept.-Oct. as well. 
Currently we have 2 registered ram lambs for sale. They were January born.
Call Sherri for info regarding them. 423-921-2485
We have 1 commercial ram lamb for sale as well. 
Everyone is doing well at this time. Two puppies we kept from the February litter are doing well. They are learning the livestock guardian way from their parents. 
Looking forward to adding 30 ewe lambs to the flock. These are ewe lambs we raised from this past lambing. They should be ready for breeding in October. 
Happy Farming to All!!
Shepherdess Sherri: Hi! Everyone. We had a successful first lambing. Total lambs 57.  We currently have 31 ram lambs for sale and 24 ewe lambs. They were born March/April 2014. We would love to keep our ewe lambs but we currently do not have enough pasture to contain them. 
Our dogs have done very well for their first year. 
We have had an enjoyable time working with our Ewe Mamas and their lambs.
Looking forward to next lambing season.
Happy Shepherding!
Lord bless you
Things here on the farm are going well. We have 16 lambs so far in the first week of lambing. There are four sets of twins, which leaves 8 singles.
The mama's have proven to be good so far. I have wanted to assist them but they have delivered unassisted thus far. We have 37 more mama's to go. With the Lord's help maybe they will deliver unassisted as well. The mama's have been good mothers.

Our dogs have been gentle and willing to learn as well.

Christina is my licker. She mulls thru everyone licking and bonding with the lambs.
Lacee is my sniffer. She smells the whole pasture and then comes thru the lambs and mama's smelling each one.

Sheba is their playmate. She looks after the lambs as their playmate watching them bounce and skip around the barn lot.

Judah has been in the ram pen for some time now. He came in with the lambs yesterday. He scared the mama's a little. They hadn't seen him in a while and ran from him. The lambs ran as well and he wanted to play with them but I wouldn't let him. He is still very much in training.

The girls seem to have matured faster than him ( which is normal). He is still very much a little boy in a big boy body. But he does a great job protecting his area.

We will try to keep you posted on the rest of this lambing season.

Happy Shepherding!
Sherri

February 17, 2014
Just an update about the farm.
We had our first lambs born February 12, 2014. Mother and lambs are doing well.

Now we are getting ready for the next flow of lambs to be born starting mid-March thru April. Many of the ewes look well and ready. Just hope I am!
Looking forward to what lies ahead.

Dogs are doing well but since they are young I am still concerned about the well fare of the lambs until I can trust them fully. They seem to do well around these first 2 lambs.
Happy Shepherding,
We'll talk later.
May the Lord bless you
Shepherdess Sherri

Hi! again  It's almost time to put our rams in with our ewes. Mid-October we plan to sort our ewes and place them with our rams.  My dogs are doing well. They are now 4 and 5 months old. Growing, growing , growing is about all I can say about them.

I just added 8 dominiquer chicks to the flock. They are young so it will be a couple of months before they begin laying farm fresh eggs. I had to add a new rooster. My other one died, so I replaced him with a dominiquer.
Looking forward to what lies ahead when winter comes and lambing season begins in March and April. OOps! one will lamb in February, she got head of the program and broke in with the rams early.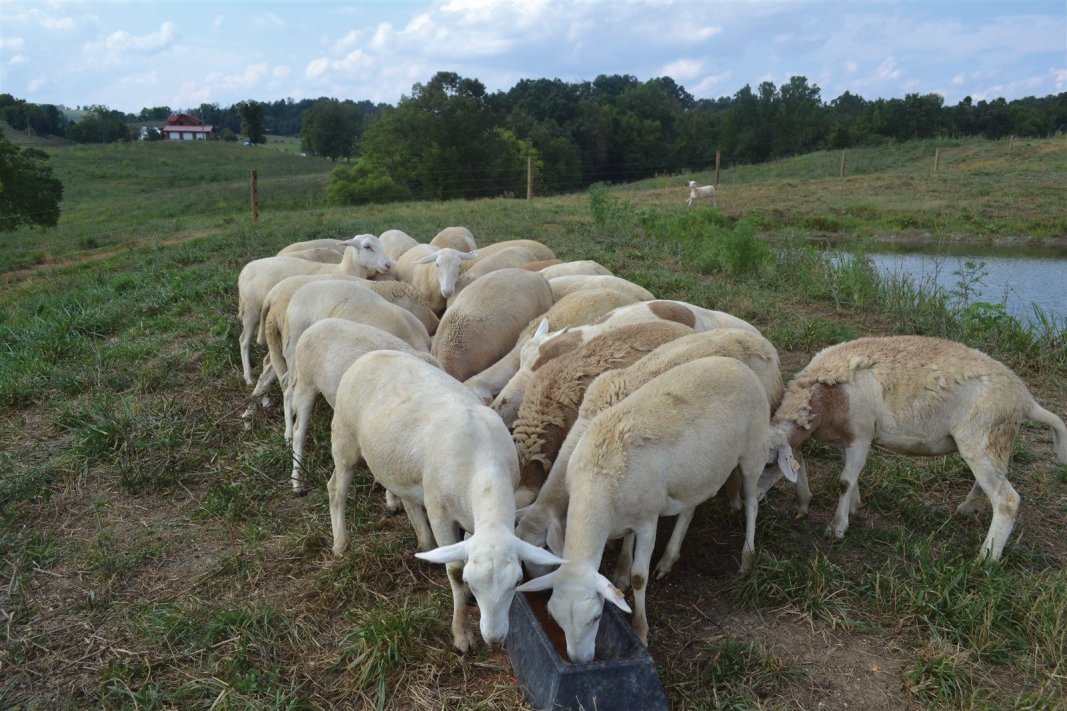 Happy farming and come again.
Hello,
We are Triple B Farms in Bulls Gap, TN. (The home of Archie Campbell)  July 2013 we bought our first Katahdin/Dorper Sheep of 27. In August we bought 20 more Katahdin. We now have a total of 47 commercial katahdin sheep.
We also purchased 3 female Anatolian Shepherd CKC registered livestock guard dogs in June. These are young dogs but are with the sheep at all times and are doing well.
In July, we purchased an AKC male Anatolian to add to our livestock dog operation.
Presently our dogs are with the sheep and chickens.
All are doing well.
We will breed our ewes this October 2013 and expect lambs in March of 2014.
Our dog breeding has not started as of yet but will begin January 2015, Lord Willing. 
We look forward to meeting wonderful sheep and dog individuals.
Hope we can be of service to you in some way. Lord Bless You!
/